I never really owned a lot of CDs and cassettes when I was younger, but I do remember when I bought myself an iPod classic back in 2009, and every time I listened to any album, I would keep staring at the artwork. For me, it was this fusion of visual and audio that elevated my listening experience. Getting lost in this sensory experience was such a privilege.
Visual imagery is an extremely powerful mode of communication. When used in the context of music, it has the ability to capture the essence and identity of the music that it encapsulates.
As a young adult, I didn't bother paying any close attention to the craftsmanship that goes into creating album art. Now, as a grown-up and a full-time illustrator, I appreciate all the tiny details and the effort it takes to produce quality artwork because I understand the processes much better.
And then of course there's the fact that album art is hugely important. Album art through the years has reflected the cultural, musical, and technological influences of each era. Some iconic ones have become cultural symbols and are celebrated even today.
In this post, I've curated a collection of iconic album covers as well as some personal favourites. While there are countless others I would have loved to include, I hope this compilation summarizes the amazing work and effort put in by these fabulous designers.
Andy Warhol - Velvet Underground & Nico, Velvet Underground (1967)
Andy Warhol is one of the most iconic designers. He experimented with a variety of mediums, including film, photography, and sculpture. His work was very provocative and had abundant sexual references, which sparked some controversies.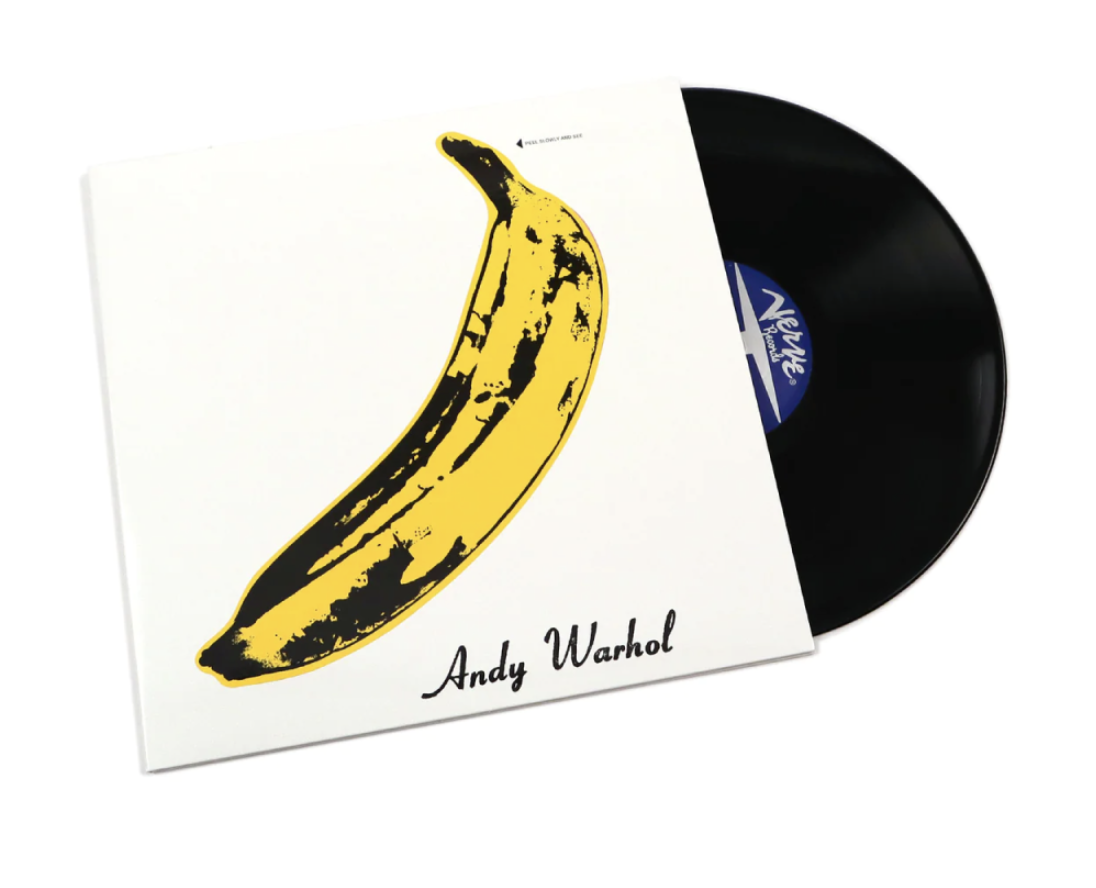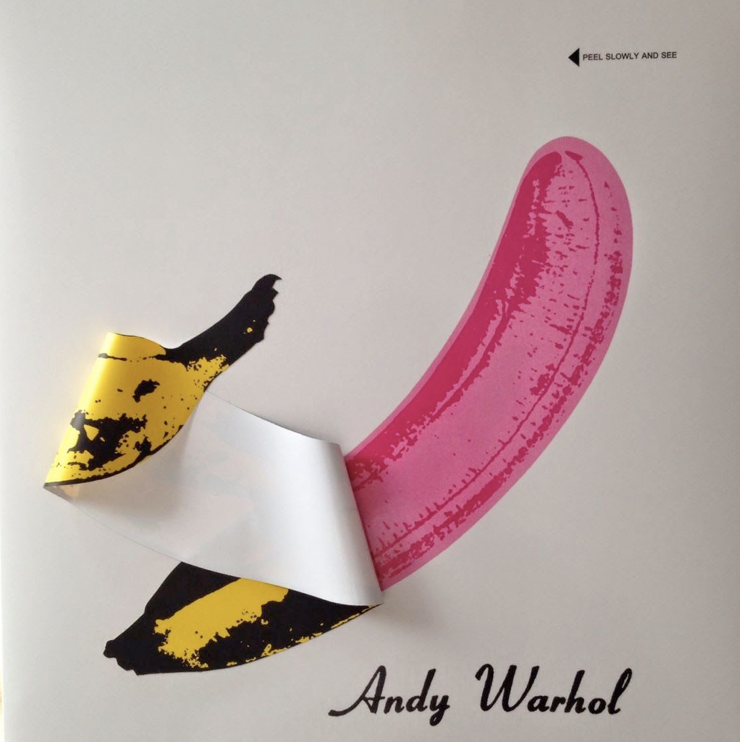 Banana Peel
This album cover features a very provocative banana sticker with a message that said — "peel slowly and see". The sticker revealed a pink banana underneath.
The design is simple, bold, and so striking! It also epitomizes the distinct pop art style that Andy Warhol was so famous for.
"I wanted to cross-pollinate rock with the avant-garde, and then I met Lou-Reed and that was the solution." - Andy
Production Problems
While doing my research, I found that the production of these stickers was very challenging. The initial stickers were not easily peel-able, which interfered with the interactive experience. The stickers also had to be manually stuck onto the album cover which resulted in misalignment and added inconsistencies to the artwork. Subsequently, the band released the album with a perforated tab on the stickers to aid listeners with the experience.
John Pasche - The Rolling Stones (1970)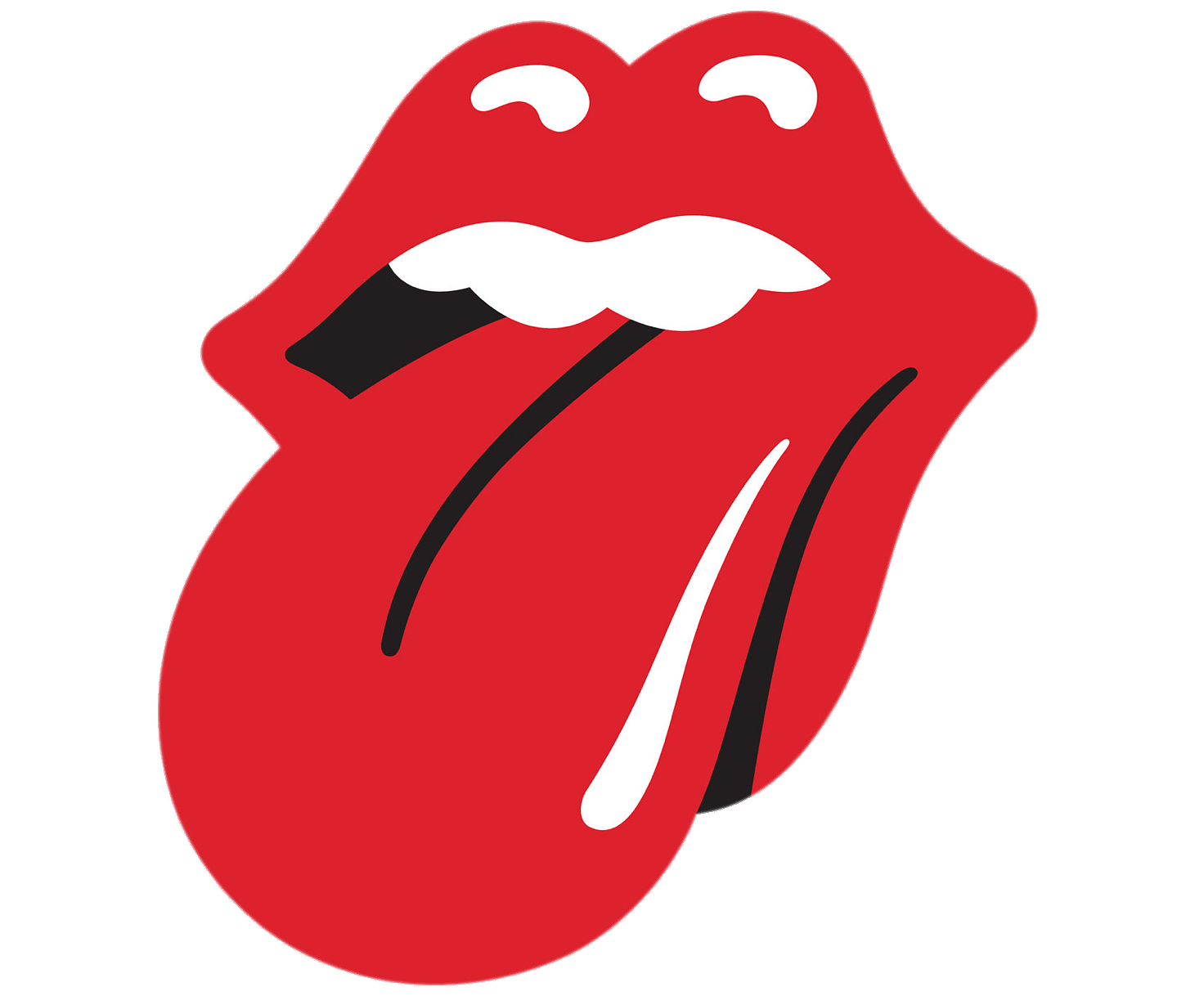 This logo is so timeless and simple that it can be so easily adapted to any medium. It became a symbol of rock-n-roll and captured the essence of the band's music perfectly. It is definitely the most recognizable symbol in music history. Mick Jagger wanted The Rolling Stones to have a logo and he reached out to John Pasche who was a student at Royal College of Arts in London. Jagger mentioned Indian goddess Kali as a source of inspiration for her powerful qualities. Ultimately, John designed this provocative, rebellious motif — juicy red lips with a tongue sticking out.
Fun fact: Pasche was paid £50 in 1970 for his design and eventually £26,000 in 1984. Given how symbolic the logo became, I think that was barely enough!
"The design concept for the tongue was to represent the band's anti-authoritarian attitude, Mick's mouth, and the obvious sexual connotations. I designed it in such a way that it was easily reproduced and in a style I thought could stand the test of time." - John Pasche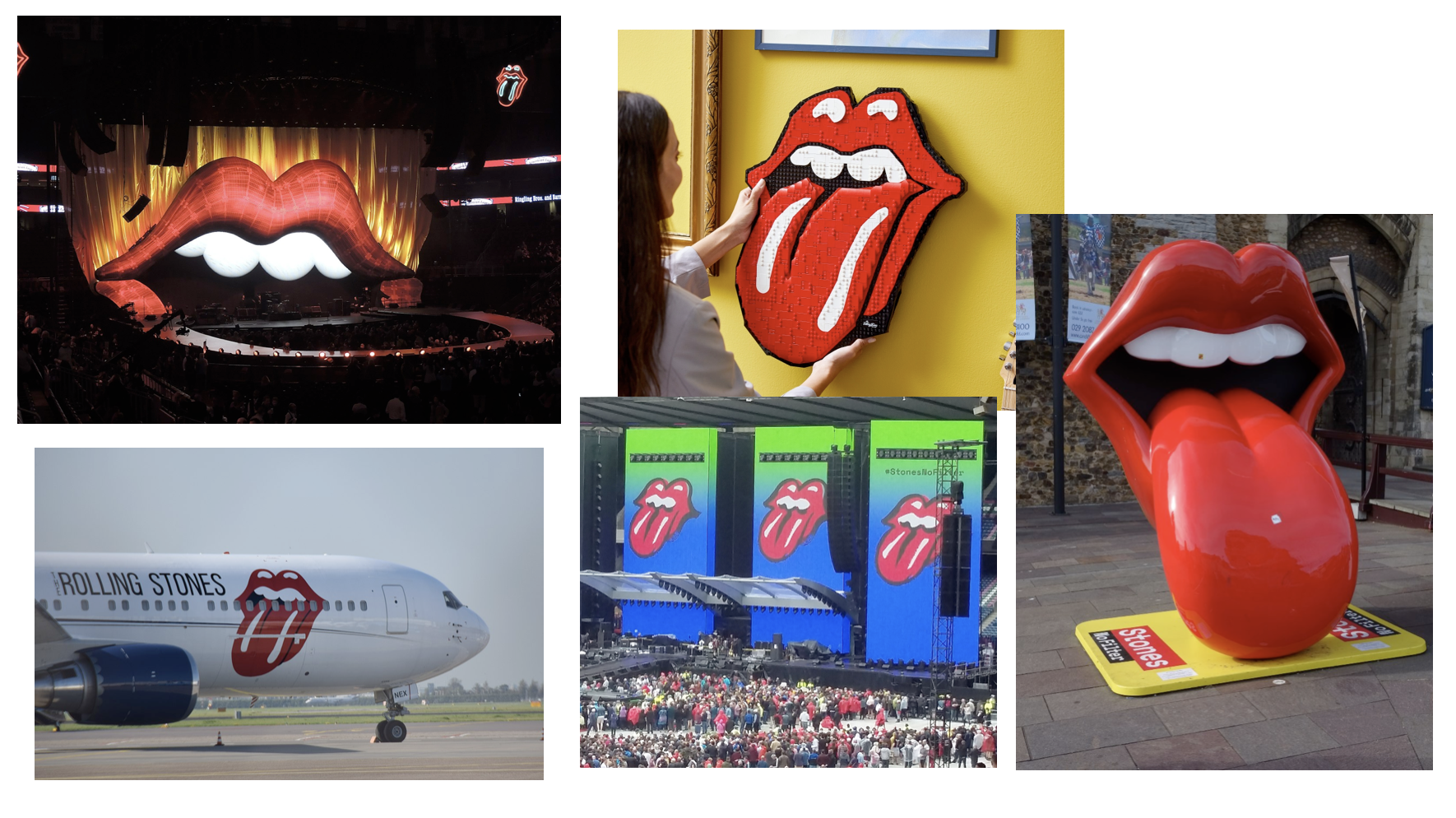 Andy Warhol - Sticky Fingers, The Rolling Stones (1971)
Here's Warhol being subversive again! This cover features a close-up, black-and-white photo of a man in jeans. It also came with an actual working zipper attached! I think that's pretty awesome, if only because it makes the whole experience so fun and interactive! Of course, this artwork was noted for its suggestive imagery and sexual undertones.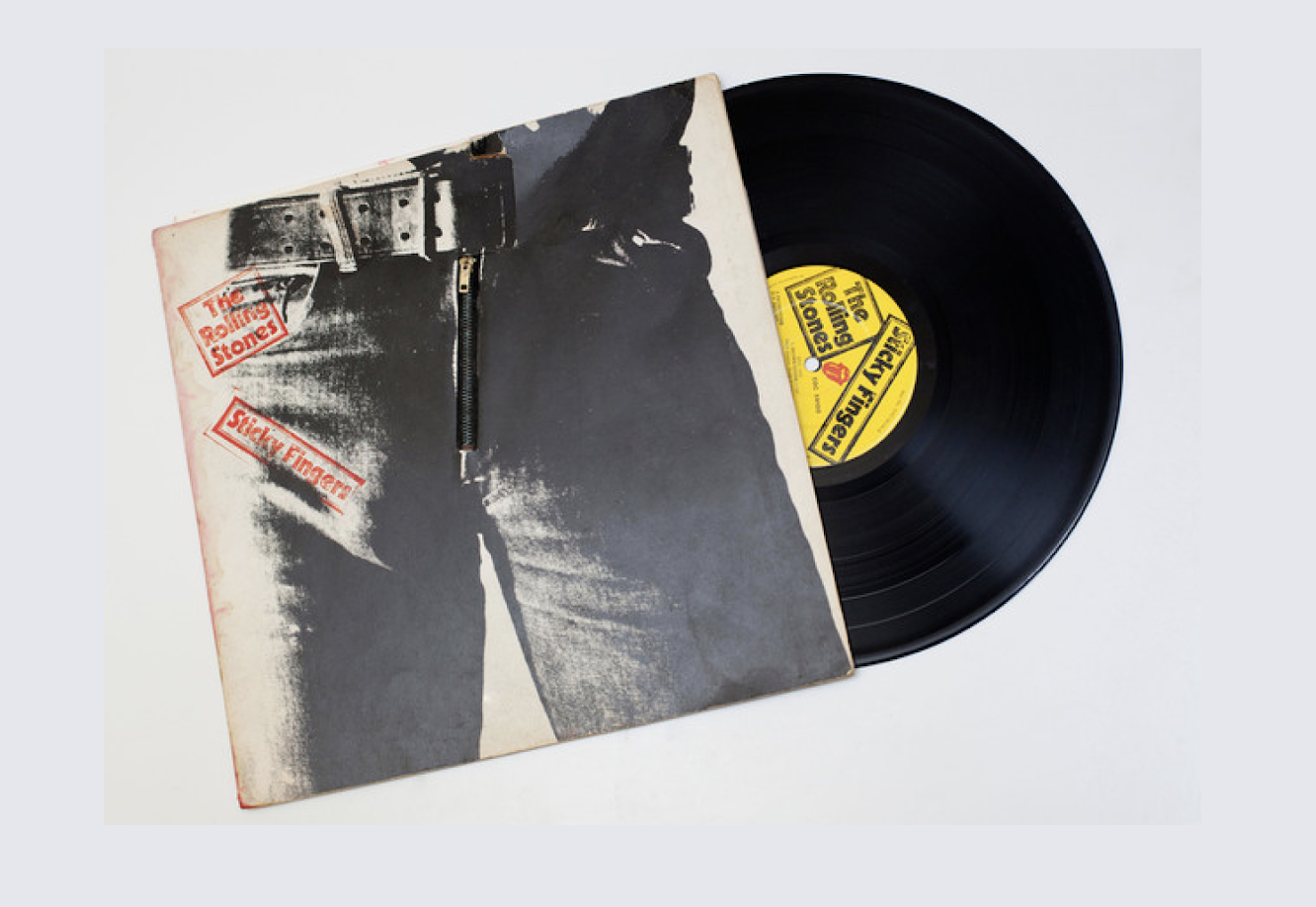 As with 'Velvet Underground & Nico", this album too faced production issues. They had to be very careful and precise to ensure that the zipper functioned properly and did not damage the vinyl. The weight of the vinyl album increased and they faced issues with packaging and shipping.
Despite the logistical difficulties, I truly appreciate Warhol's out-of-the-box concept and the band's willingness to go along with it.
Storm Thorgerson - Dark Side of the Moon, Pink Floyd (1971)
This one is timeless. The iconic image of the prism has become so closely associated with the album that it's instantly recognisable. I'm not going to lie, I never took an interest in classic rock, so I had not actually listened to the album until I decided to write this post. I totally understand what the hype is about now. The album is magic and so is the album artwork!
The inspiration for this artwork came when Storm was browsing through a physics textbook. The artwork was not made with any specific deep meaning in mind, but fans speculated wildly.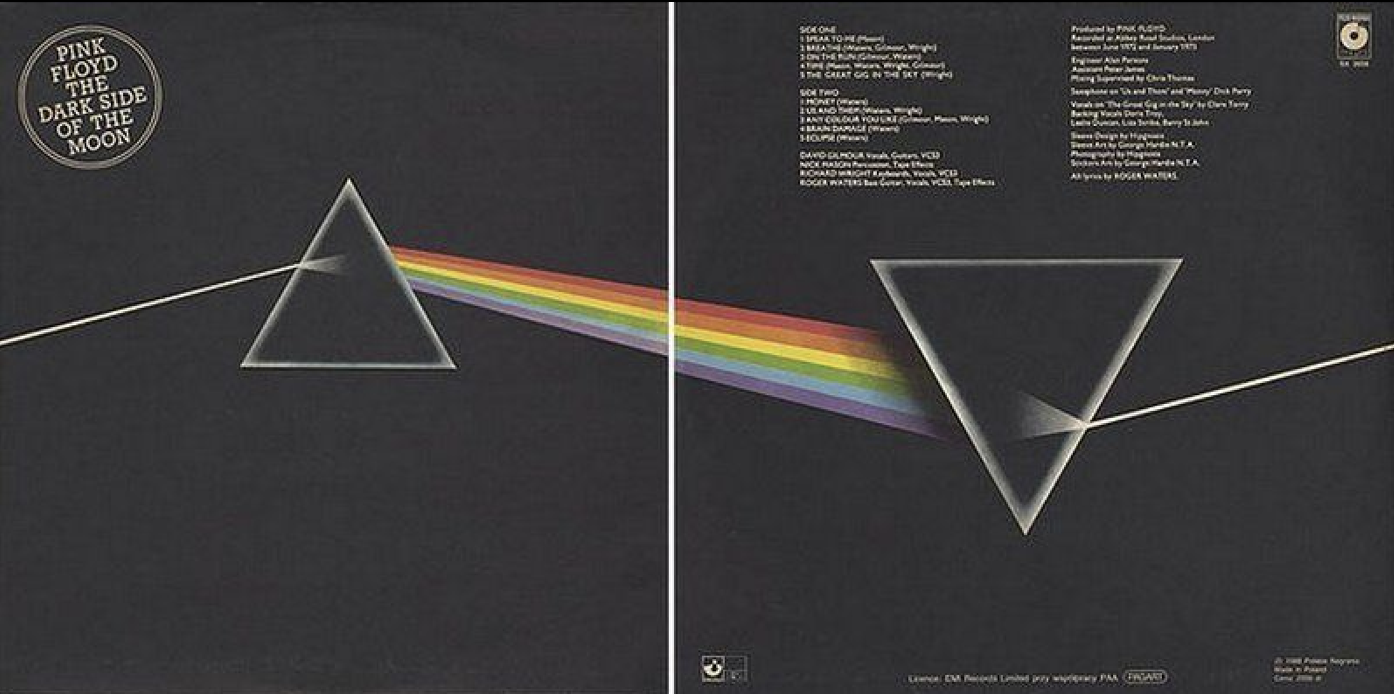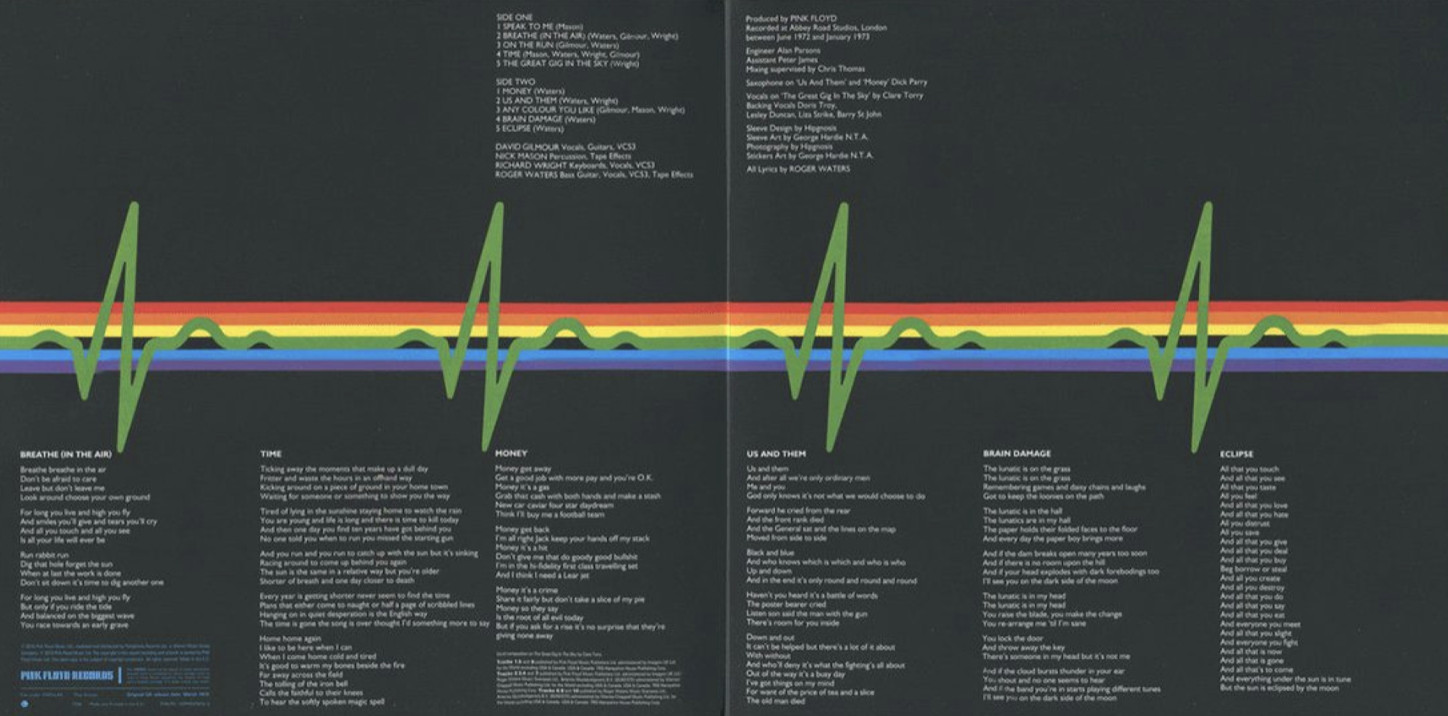 Peter Saville - Unknown Pleasure, Joy Division (1979)
Peter is a renowned graphic designer and art director. Back in the day, he used to collaborate with Factory Records, an independent music label. He worked on a lot of album covers and posters, most notably for Joy Division's Unknown Pleasure.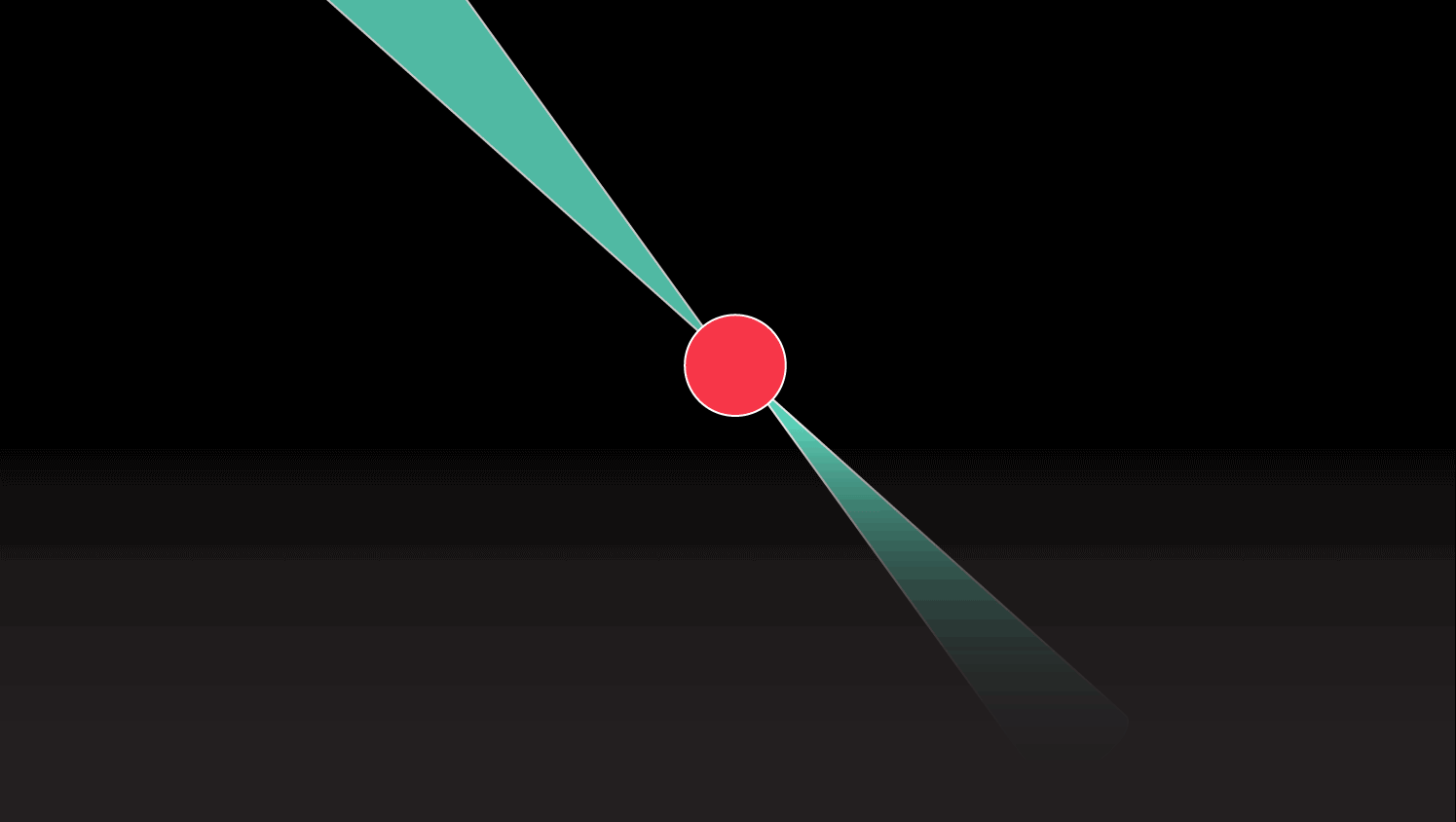 The artwork for this album is super iconic. This graphic is from a science encyclopedia which had an image of pulsar CP 1919 — a "rotating neutron star" — giving out radio emissions.
"The group asked for it to be white on the outside and I just couldn't see it… I was afraid it might look a little cheap. I was convinced that it was just sexier in black. This is radio energy from space. Space is black," said Saville.
Jamie Hewlett & Damon Albarn - Gorillaz (1998)
I mean, if I don't talk about the legendary work Jamie and Damon conceptualized and created for Gorillaz, what even is the point of all this?
Jamie is an illustrator, artist, and designer who created a very popular comic series — Tank Girl. He's worked with a number of musicians like Blur, Massive Attack, and Chemical Brothers.
While watching MTV one day, Jamie and Damon felt that all the content was very boring and decided to create a virtual band
They created four members - Murdoc (bass and drum machine), 2D (vocals, synths), Noodle (lead guitar, synths), and Russel (drums). Also, each of their albums has a super interesting storyline (y'all should definitely listen to and read up about it).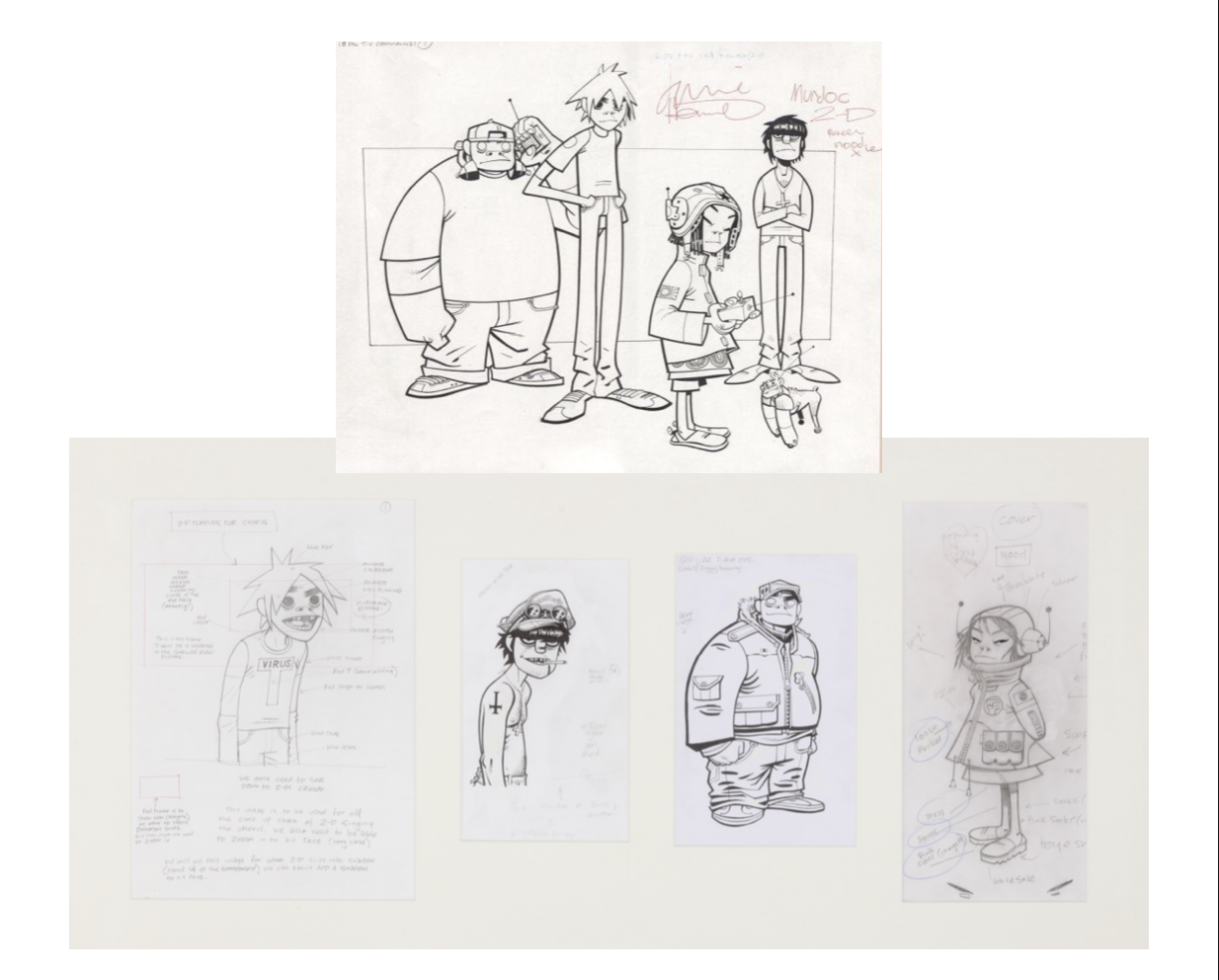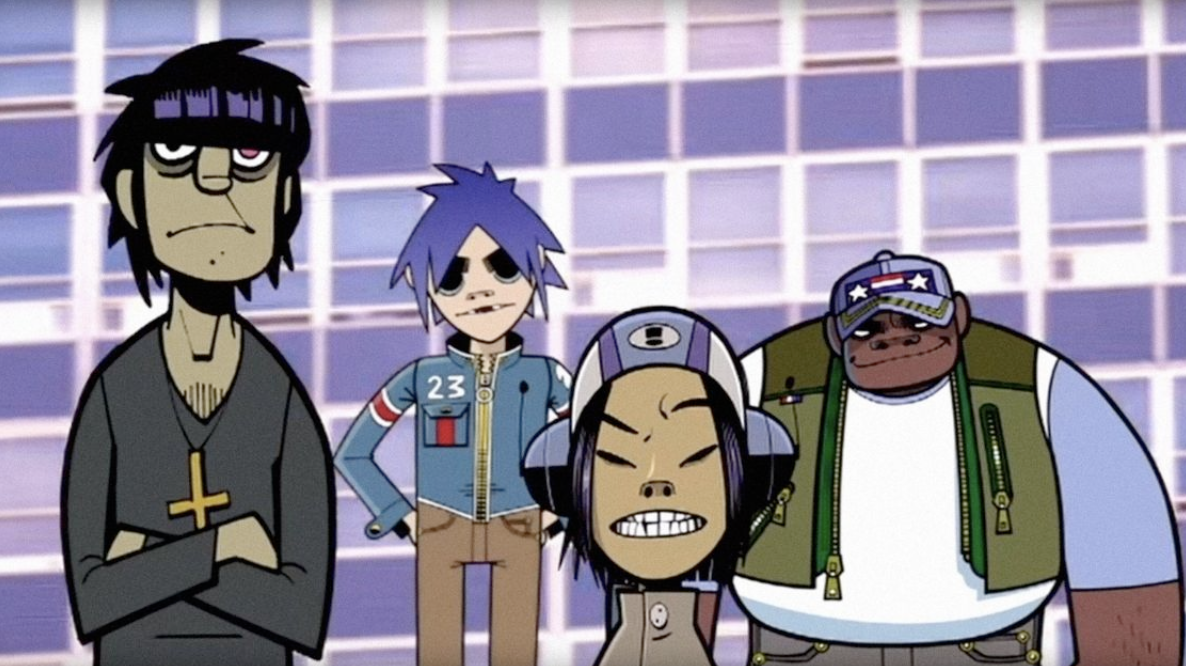 They've gone on to create 2d and 3d characters, combined animation with live action, created immersive and interactive experiences on their website, and played live shows with Gorillaz as holograms. They even made an appearance on MTV Cribs, which was completely 3d modeled!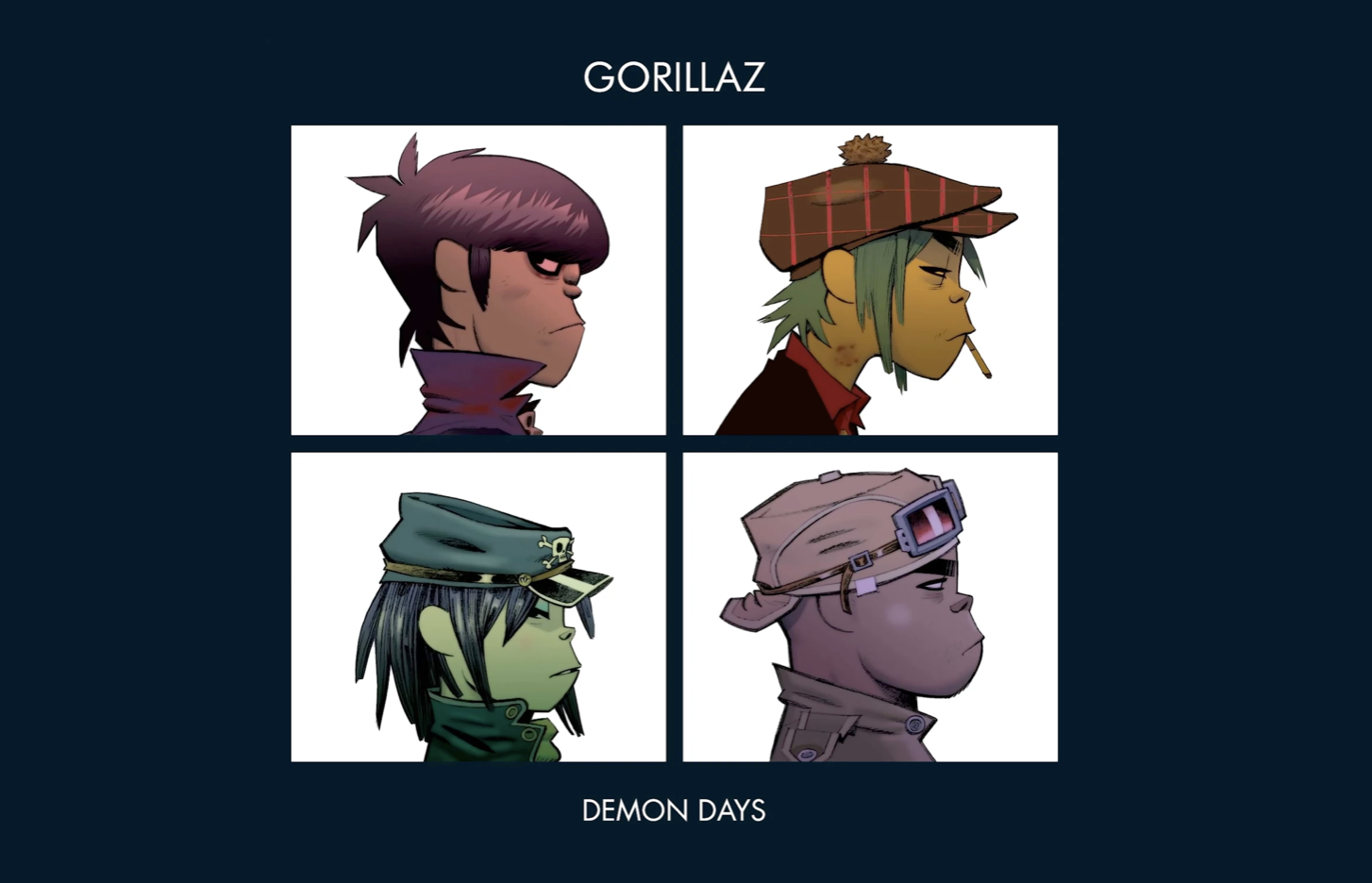 My favourite artwork is the one on Demon Days. It features all four characters in four different frames and is instantly recognisable. The album tells a story where all characters confront their inner demons on a journey through the night.
Demon Days is so good, I remember when I was absolutely ripping this album on my speakers 24x7. Good times!
Robert Del Naja, Tom Hingston, Nick Knight - Mezzanine, Massive Attack (1998)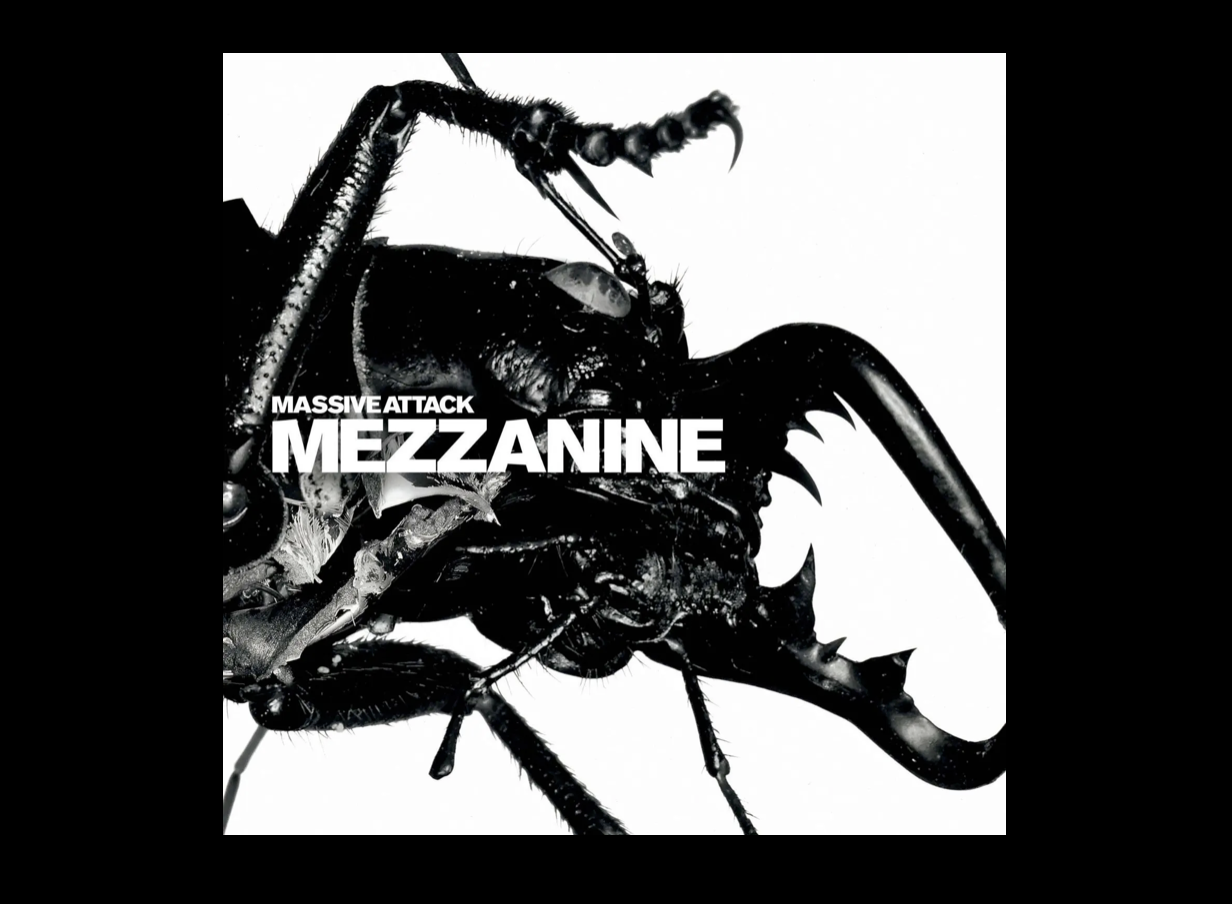 Mezzanine was my first introduction to Massive Attack and I remember feeling strange emotions because this sound was something very new to me back then. Even then, I found myself going back to this album over and over again because it was so beautiful. 
Robert (member of Massive Attack) used to have vivid dreams about arachnids which led to this sleeve design. It was shot by Nick Knight - a fashion photographer, at Natural History Museum in London, and art directed by Tom.
The album cover features a composite image of a stag beetle. The image is absolutely stunning and impeccable — and it compliments the album beautifully. I love that it's shot in black-and-white and because of the contrast, one can even notice the tiny specks of detail on the body of the beetle.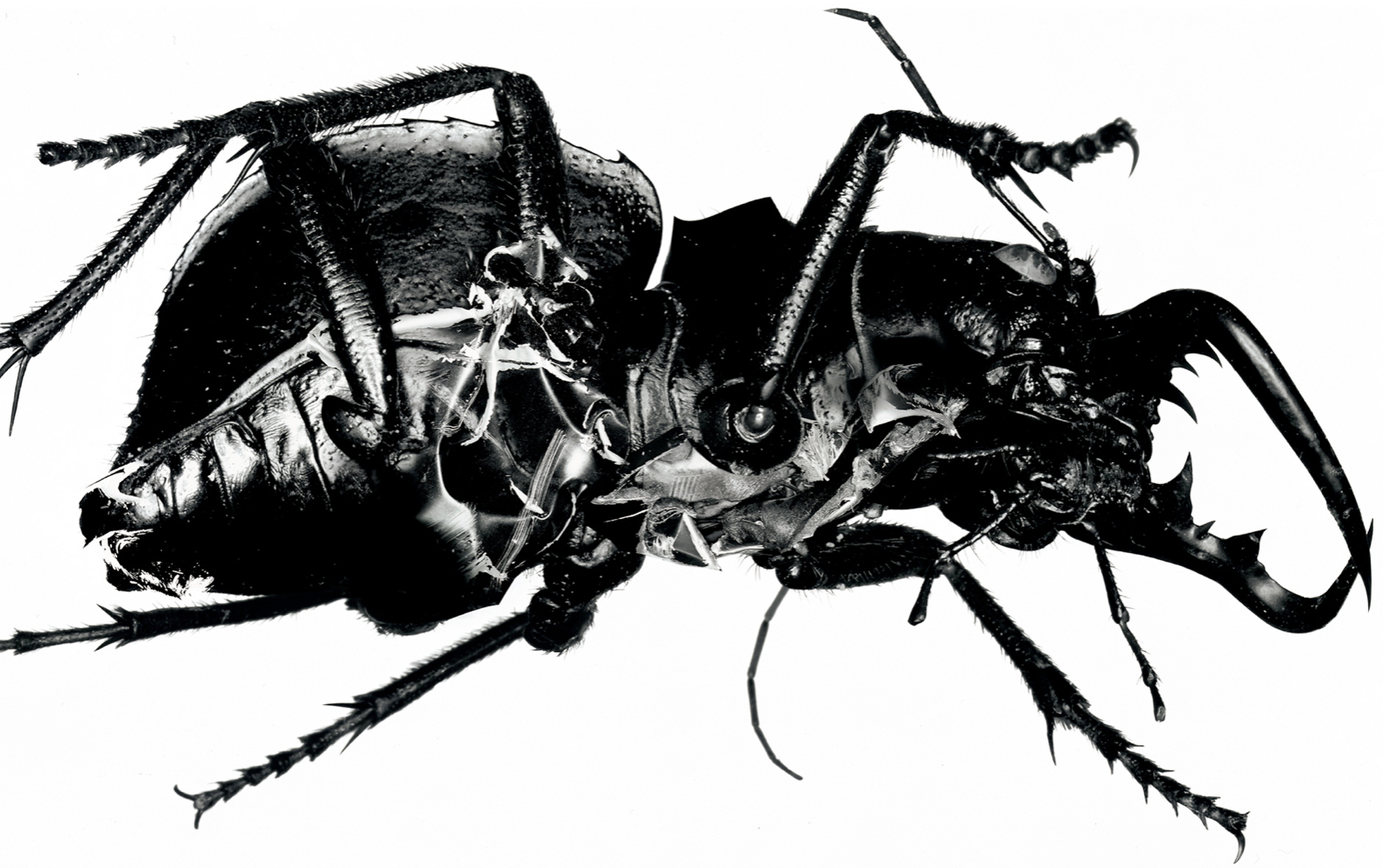 David Carson - The Fragile, Nine Inch Nails (1999)
David has a background in sociology and was a professional skateboarder before he became a graphic designer. His work is very distinct and experimental. He was a rebel — he broke all the rules of typography to create avant-garde text layouts, and in general, his work adhered to no norms. The work he did for Ray Gun magazine is phenomenal, featuring eclectic typography, and unconventional layouts.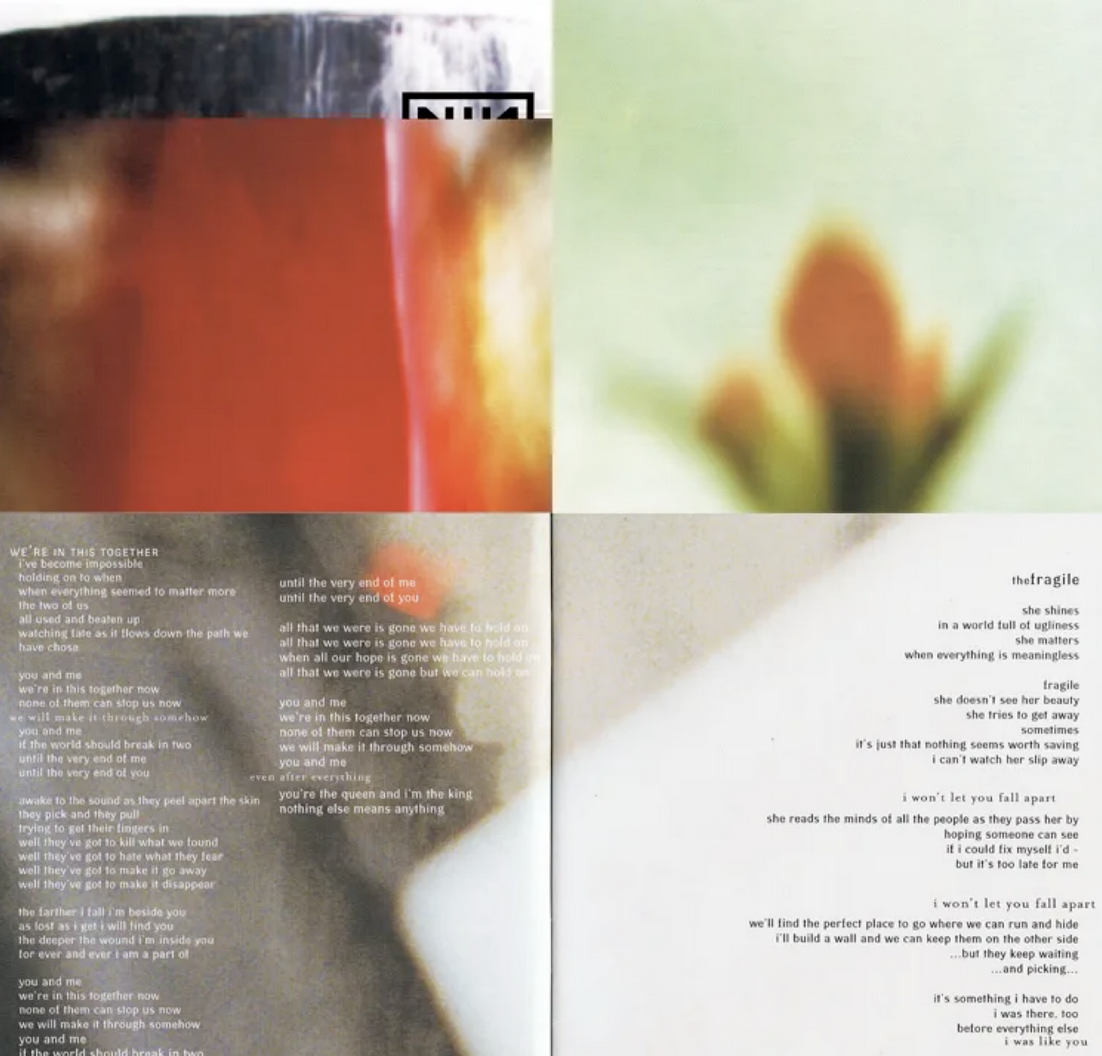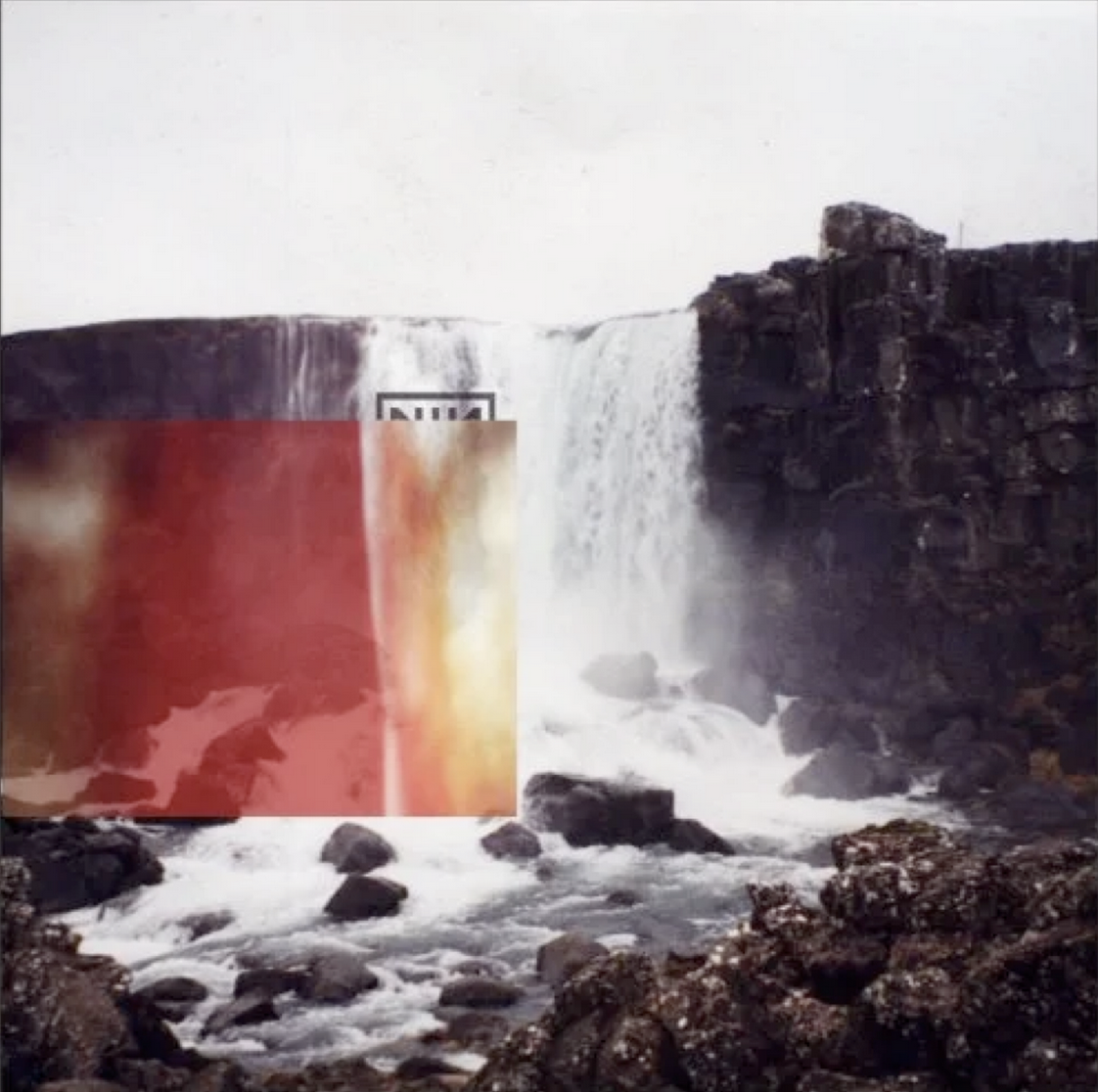 The album cover was originally supposed to be a photograph of a waterfall in Iceland, but the photograph didn't develop properly. The deliberate decision to embrace the imperfection is what makes this album cover so interesting. I also really like the way the band logo is cut in half, one can get just a tiny peek at it.
"The back cover was going to be the front until the last moment. Trent changed it saying 'it was kinda irritating' yet something about it we liked so maybe it fit the music. Front cover flowers I shot outside of Austin. The 1-hour place called and said they messed up and used the wrong chemicals and the film was ruined. I said 'lemme see 'em anyway'. This is how they came out. Cover image is of a waterfall in Iceland and a seashell in the West Indies."  (Quote taken from wikipedia)
Hideyuki Katsumata - Machine Dream, Little Dragon (2009)
Hideyuki is a self-taught illustrator, graphic artist, and muralist. His work has a blend of Japanese traditional and manga styles. His illustrations are very expressive and rooted in fantasy. 
More than a decade ago, he worked on an animated music video for Little Dragon. The band got in touch with him via his MySpace page. Later he collaborated with them and illustrated their second studio album Machine Dream, which is one of my favourite Little Dragon albums.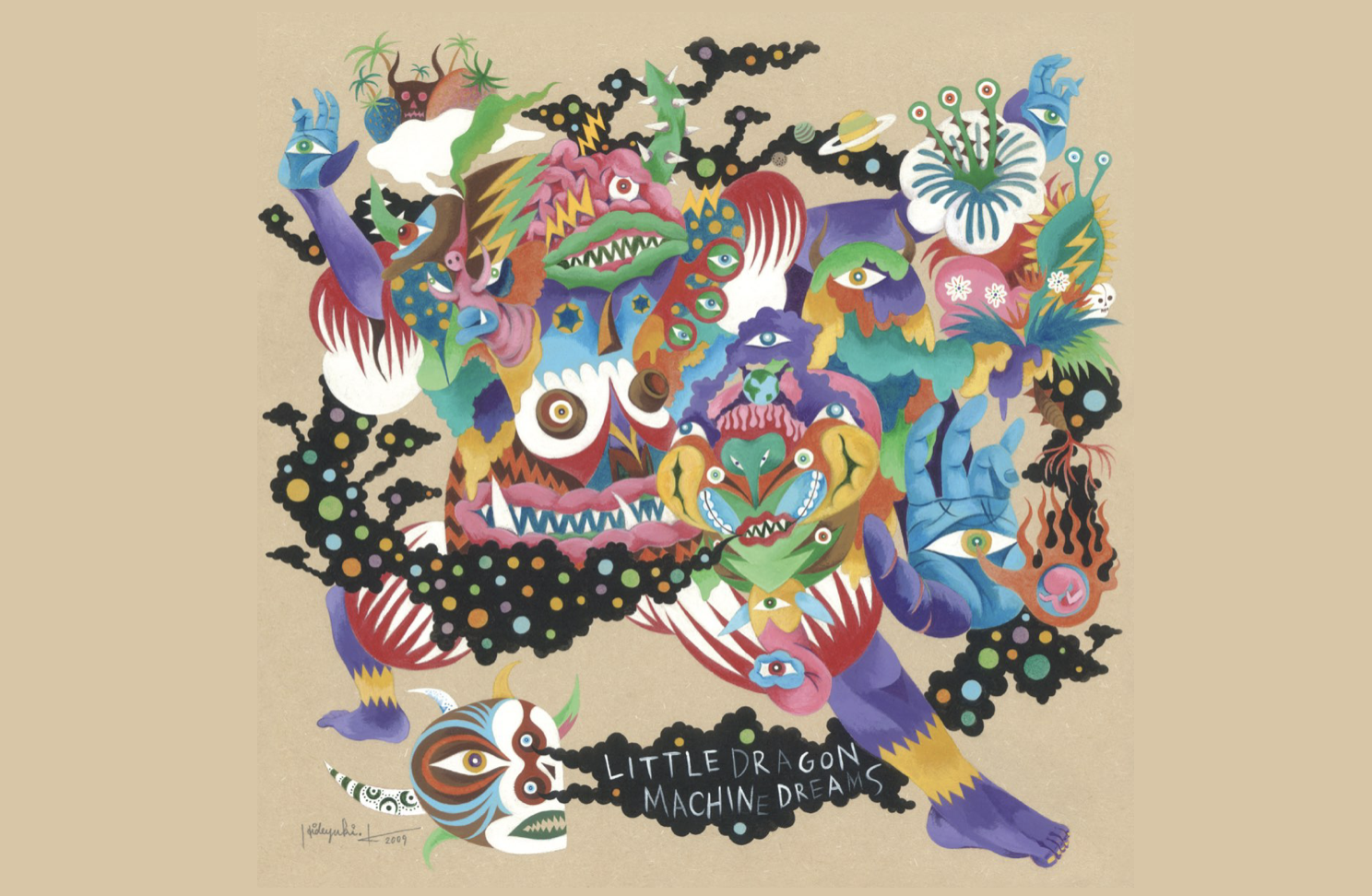 The album cover has abstract fantasy elements and a lot of detail — tiny planets, alien-like creatures, a fetus, a snail-like creature… The more time you spend staring at it, the more detail you absorb and the more meaning you'll perceive. The use of colours reminds me of the colours used in beautiful sand paintings done by Tibetan monks.
Matthew Cooper - AM, Arctic Monkeys (2013)
Matthew works as a freelance illustrator and a graphic designer. He's worked with a bunch of musicians like Caribou, Floating Points, Four Tet, Arctic Monkeys. His work uses a lot of mixed media techniques and photography.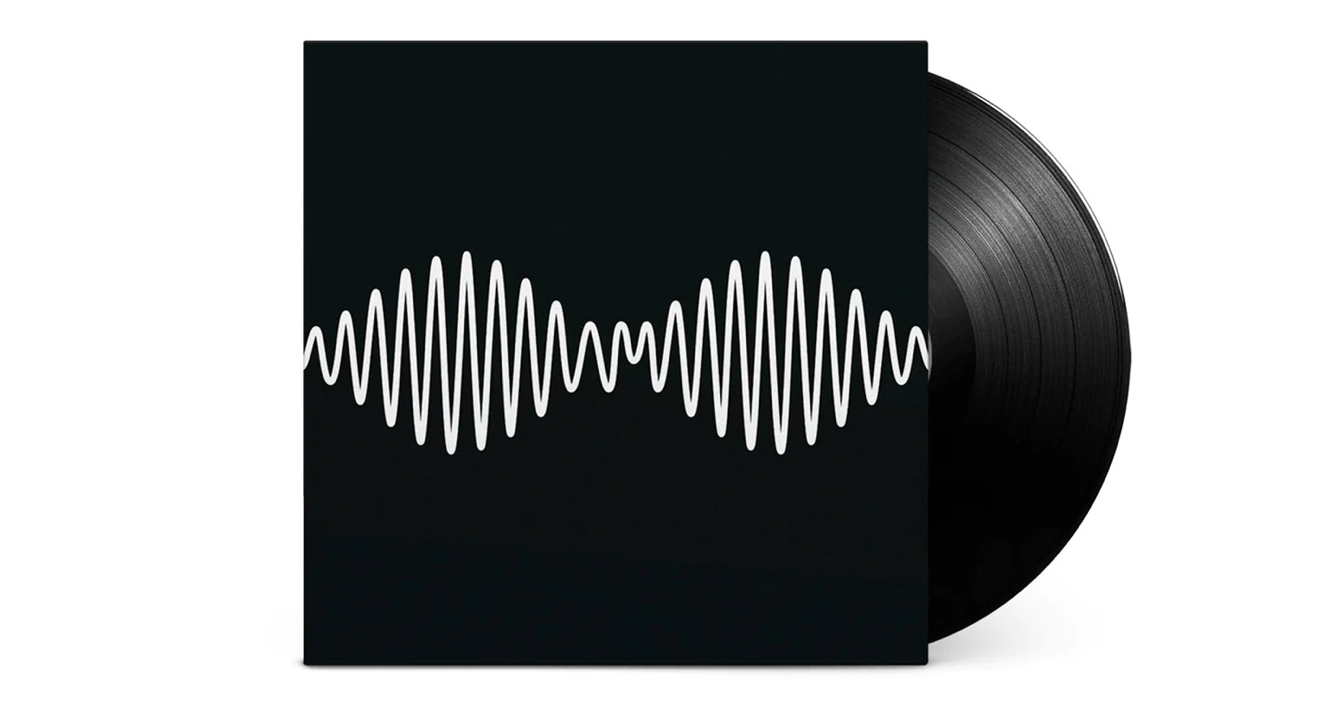 I first saw this design on the Arctic Monkeys video 'Do I Wanna Know' and it is so minimal but so dynamic! They managed to create an entire animated video based on just this pure, minimal graphic. If you inspect closely, the design even has a hidden 'AM' in it.
And of course, this album was on repeat when it was released. The music is so damn catchy!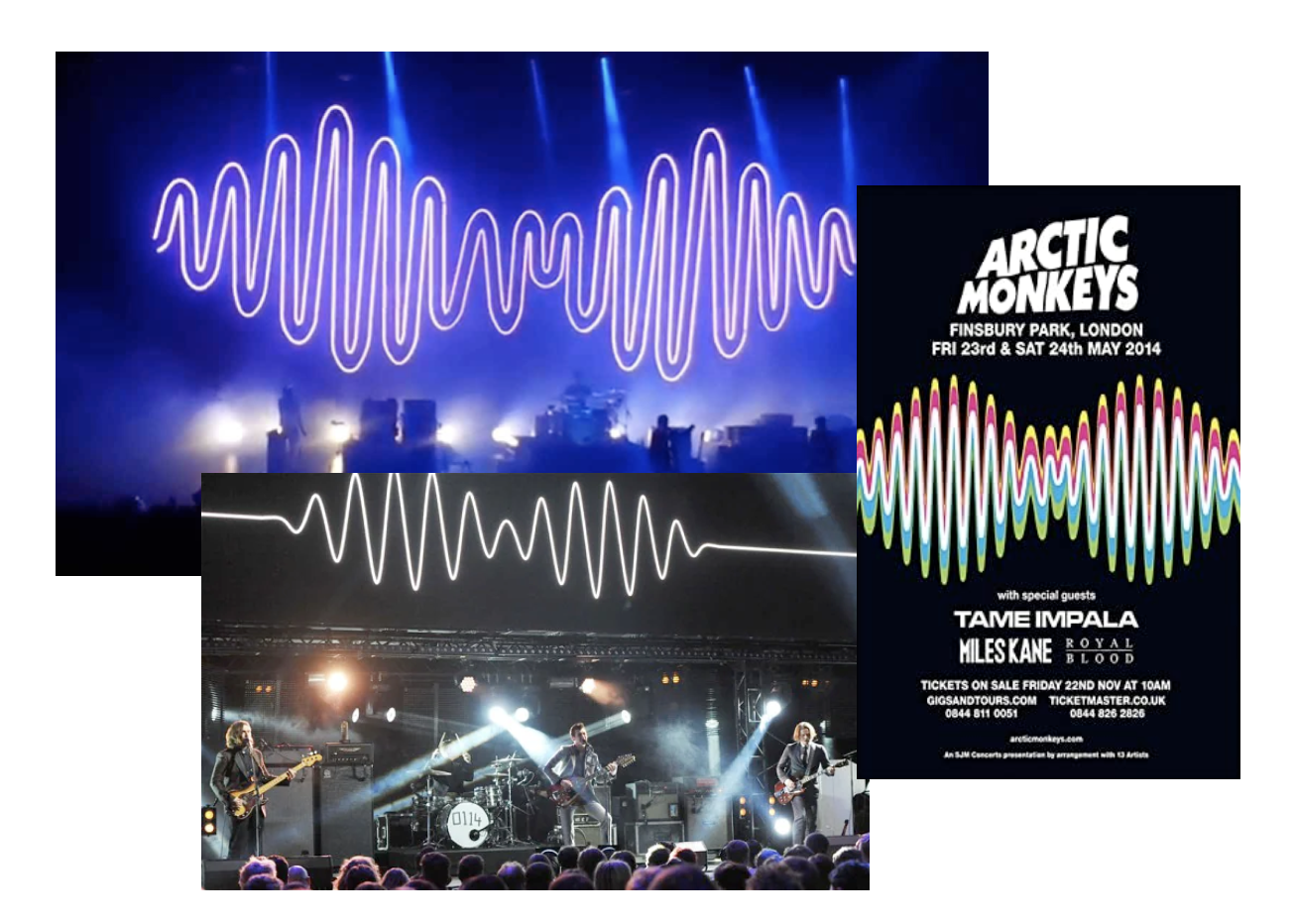 Bendik Kaltenborn - It's Album Time, Todd Terje (2013)
Bendik is an illustrator and is one of my favourites. Apart from illustrating the artwork for It's Album Time, he's worked with Todd Terje on a bunch of gig posters as well.
His use of playful illustrations, hand-drawn typography and bold colours make for a very funky style of work. This characteristic of his work can even be seen on Todd Terje's album cover.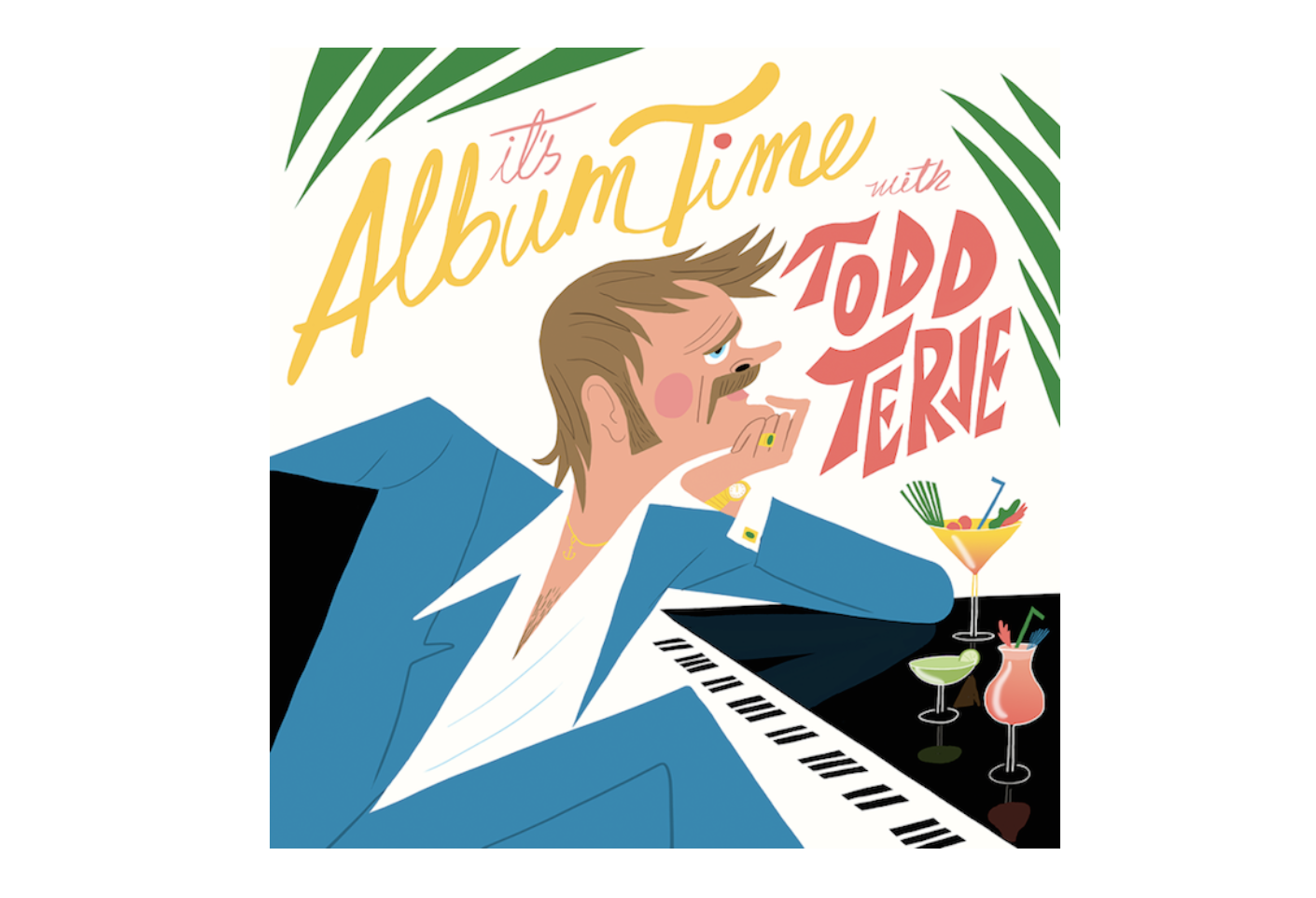 The whimsical style of the artwork along with the funky synth sounds in the album form such a cool synergy.
This silly sense of humor can also be seen in the animated music video Bendik worked on for 'Alfonso Muskedunder' a track from the album.
Todd Terje and Bendik Kaltenborn are literally a match made in heaven! Do yourself a favour and go check out the album.
Jesse Kanda - LP1, FKA Twigs (2014)
Jesse Kanda uses digital manipulation, collage techniques and sculptures to create very grotesque and surreal visuals. He has collaborated with musicians like Bjork, Arca, and FKA Twigs.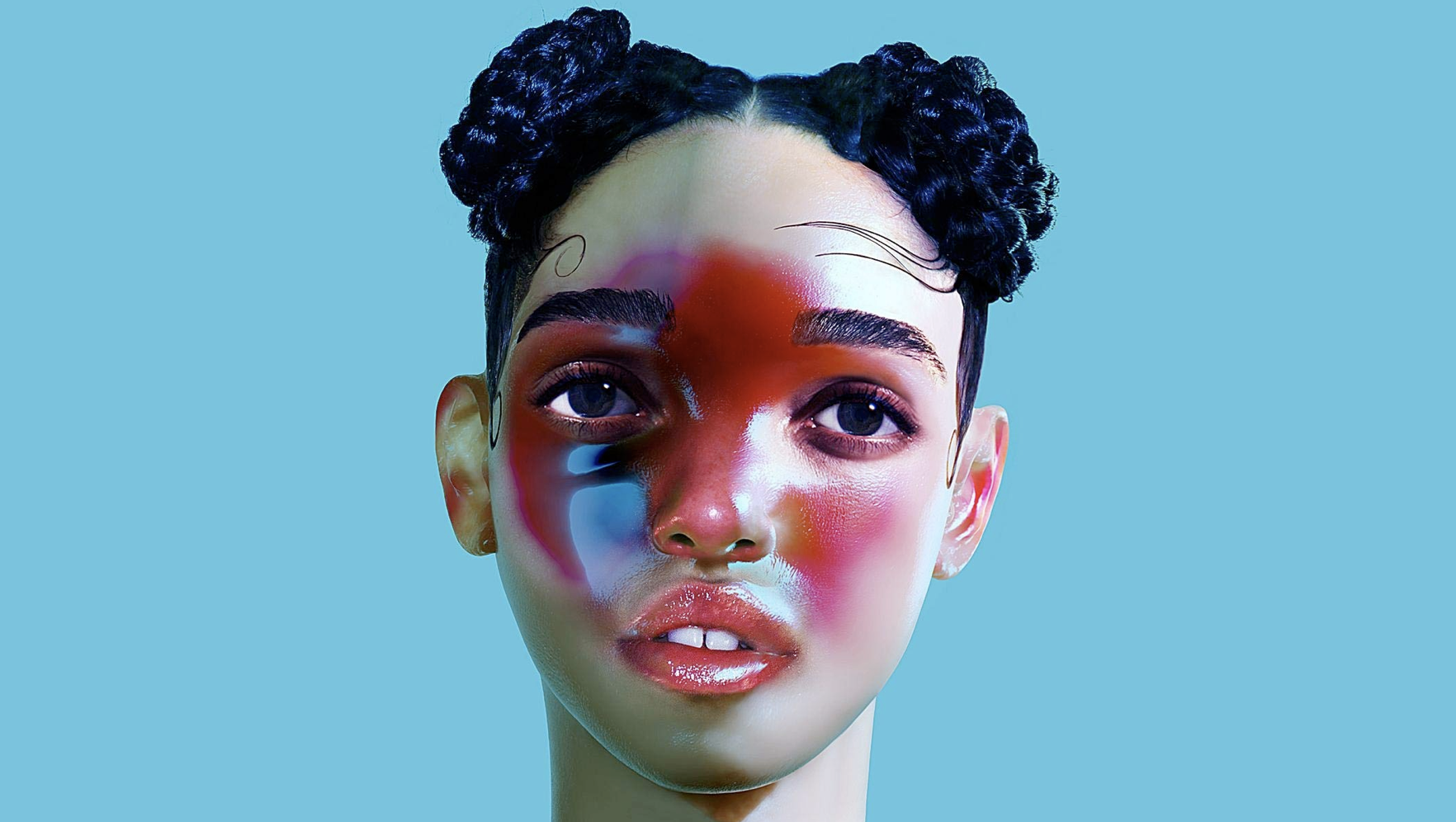 For this album, close-up photos of her head were shot which were then sculpted in 3d and manipulated. The resulting image is a stunning blend of aesthetics, blurring the line between reality and fantasy.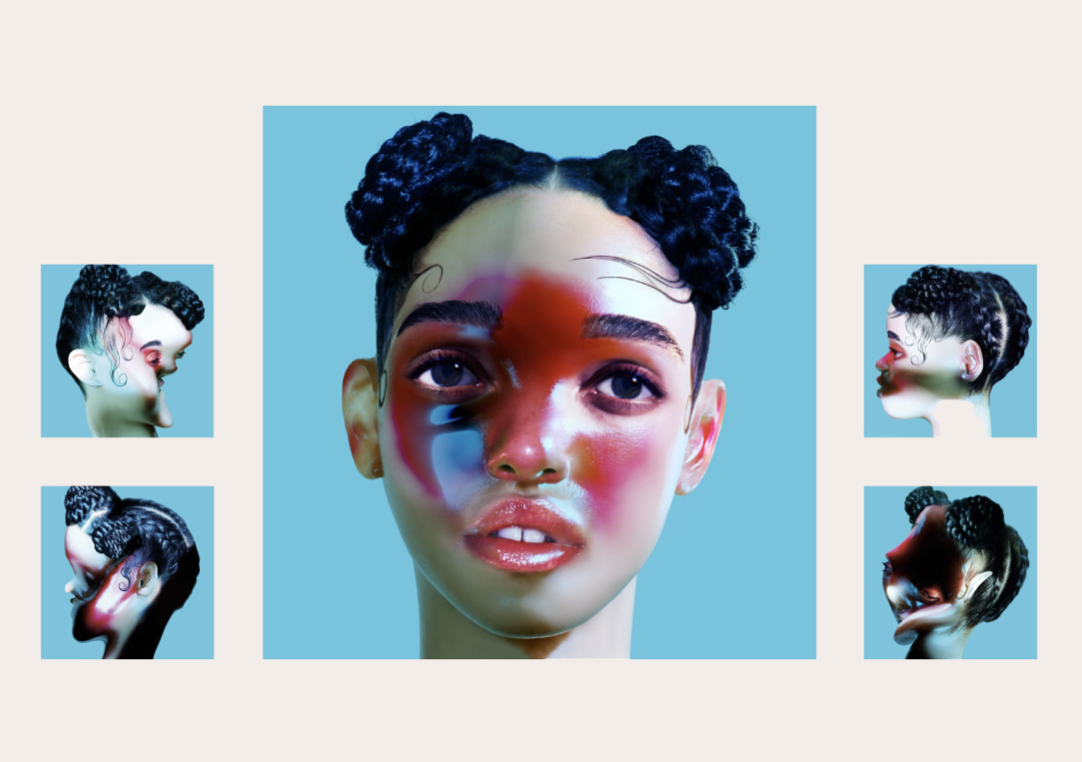 FKA Twigs' music is very avant-garde, her vocals feel minimalist and yet very intricately layered. As is the case with her music videos, they're eye-catching, aesthetically pleasing and have a blend of fashion and beautiful choreography.
The album cover created by Jesse Kanda perfectly captures the essence of FKA Twigs' artistic identity.
Ricardo Cavolo - 99.9%, Kaytranada (2016)
Ricardo Cavolo is an illustrator, graphic designer, muralist and tattoo artist. His work is heavily influenced by traditional folk art, using bold colours, and symbolic imagery. Often in his illustrations, he draws his characters with multiple sets of eyes, which is symbolic of wisdom.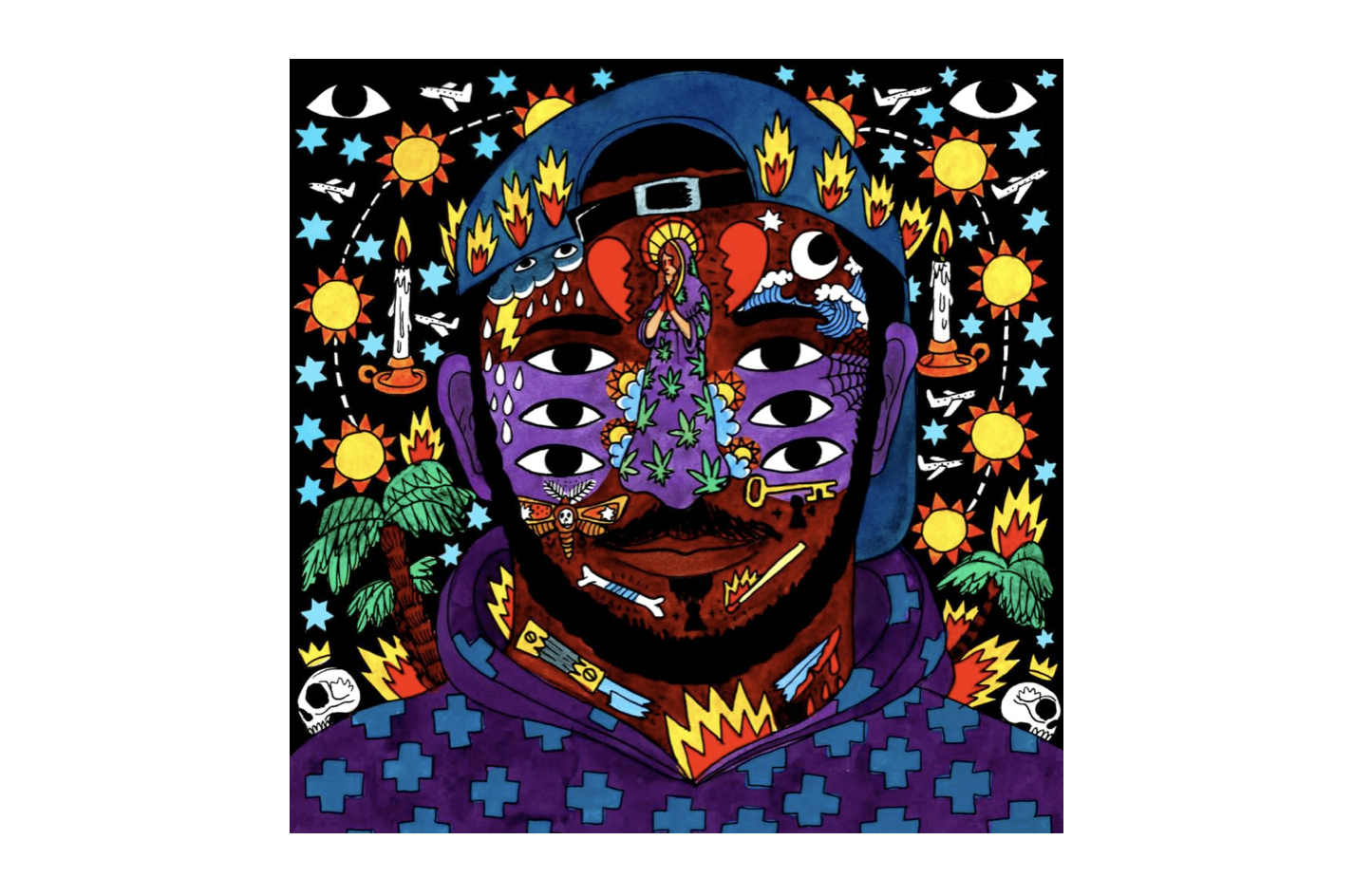 I love groovy music and groovy artwork. This album has both! The album has an illustrated portrait of Kaytranada. He was inspired by psychic imagery, tarot cards, and tribal symbols to create this artwork, which works so well with the funky bass, soulful samples and vibrant tunes in the album.
I recommend checking out his published book '101 Artists to Listen to Before You Die' — it's quite a visual treat of funky drawings of musicians.
Closing:
Being a music enthusiast plus having a background in design, I'm usually eager to see what different visual mediums my favourite musicians use and the creative processes involved. Visuals in music go beyond aesthetics — they have the power to tell stories and elevate the listening experience. And for me, these album covers have managed to achieve that beautifully.
Links for further reading-
PS. Today, I mostly use Spotify to stream music and thoroughly enjoy using the 'full screen' feature. It blows up the artwork of the artist to full screen size and it's a full sensory experience!